Mini RM4C Smart Universal Remote Control, Control Your IR Devices from Internet or Wifi
Product Code:
Mini Smart Universal Remote Control
【HIGH COMPATIBILITY】: BestCon RM4C mini Wi-Fi smart IR hub supports 50,000+ IR controlled entertainment and life appliances, such as TV, Air Conditioner, Set top box, Streaming player, Video Recorder, DVD, Projector, Amplifier, Home Theater, Sound Bar, Home Stereo, Fan, etc. Supported IR library is constantly being updated by the cloud to ensure newer devices are always compatible. Option to program the ir remote devices and learn buttons if no available cloud data is matching with.
【TV / AC CONTROL】: – Voice control your TV with On/Off, Volume control, Change channel by number/name, Switch input, Play, Fast forward, Rewind, Pause, Stop, Previous, Next…Smart AC controller, voice control your aircon with On/Off, Temperature, Fan speed, mode…With free easy-to-use BestCon App for iOS and Android, your phone will be a smart remote, you can remotely control your IR devices no matter you are at home or away.
【VOICE CONTROL AND IFTTT】: Works with Alexa or Google Assistant and IFTTT ("BestCon" skill/service). An ideal alexa/google home accessories for home. Simple setup with Amazon Echo or Google Nest to easily voice control your IR devices, and more home automation settings can be added by IFTTT. Siri voice control is also available on iPhone.
【FEATURES】: Create multiple timers and customized scenes as you need to control your smart home devices. Simple and easy setup to create a smart house for you. Supports external Temperature and Humidity detection of the room where the device located, which will be displayed in BestCon App. You can easily set triggers, such as turn on your air conditioner automatically when the temperature rises.
IR Universal Remote
• Support 50,000+ IR controlled devices such as TV, STB, DVD, Air conditioner, Fan, Video Recorder, Audio and more.
• Large IR database on the cloud, which covers 98% IR remote function and is constantly updated.
• Learn your remote controller if no available cloud data is matching with certain appliance model. • Multiple timers and scenes for your appliances.
• Support external temperature and humidity detection of the room where the device located.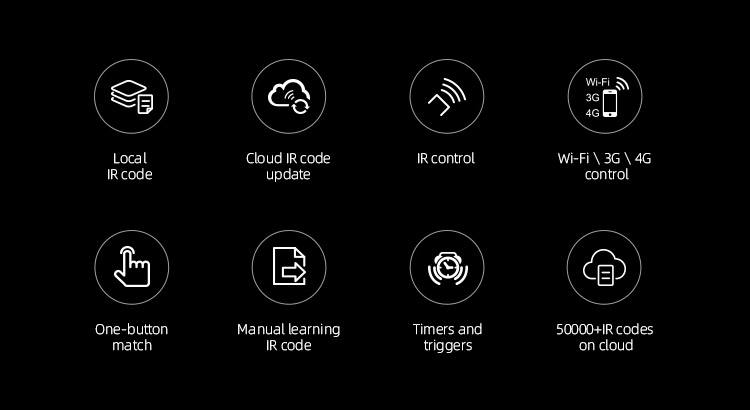 Rating Power :5V DC / 1A
Infrared Direction :Multiple-direction infrared
Infrared Frequency :38kHz
Communication Mode :Wi-Fi 802.11b/g/n(2.4GHz)
Supported OS :Android 4.0 / iO-S 9.0 and above
Compatible with all 5V USB adapters
Certification :CE ROHS
Contains FCC ID: 2ACDZ-BL3336-P
We will deliver this item within 24-48hrs

There are no reviews for this product.